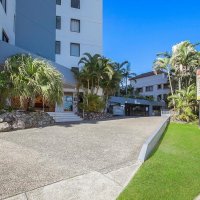 These are some of the favourite restaurants near our hotel.
Alleys Restaurant and Bar
The award-winning Alleys Restaurant and Bar showcases local ingredients and fresh produce. Enjoy delicious meals with family and friends. Alleys are open daily and serve lunch and dinner. Dine in a fun and festive ambience. Enjoy the views over Currumbin Creek.

The chefs create seasonal dishes that are locally sourced. Enjoy some old favourites. There is an onsite garden that provides fresh vegetables and herbs. Alleys have won the Clubs Queensland Award for Best Dining. This award-winning restaurant is a favourite even among locals.

Alleys are located at 165 Duringan Street Currumbin RSL.
Kurrawa Surf Club
The surf club is situated in the centre of Broadbeach. The new clubhouse has stunning 230-degree views of the Pacific Ocean and the coastline. Enjoy the stunning views while you're dining. The chefs use fresh ingredients and create delicious dishes including vegetarian and gluten-free options. Hang out with your mates at Kurrawa Surf Club. The club has a fun and laidback environment. Kick back and relax while enjoying tasty dishes.

The bar features Australian wines, local beers and refreshing cocktails. Best of all, proceeds from the restaurant go to supporting a Community Club. The profits support their surf lifesaving club. Dining at the club helps a good cause. Kurrawa Surf Club is located at 'Beachside' Old Burleigh Road, Broadbeach. Our Holiday Apartments Burleigh is close to the restaurants. There are plenty of dining options near our hotel.

The one bedroom apartment has a kitchen, laundry facilities, TV, free Foxtel, and wireless internet access. Enjoy the gorgeous views from the private balcony. Prepare tasty and delicious meals in the kitchen. Bring your mates and enjoy your holiday on the Gold Coast.

To learn more, go to https://www.horizonsapts.com.au/accommodation.