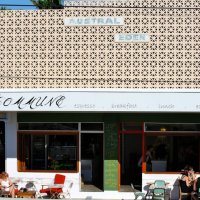 If you love good company and great coffee, head to the Commune Espresso. It fronts the lower Gold Coast Highway and is considered a second home for locals.

The café's clustered settings allow it to be a comfy place for conversation amidst its mish-mash of vintage furniture. Curl up and enjoy warm coffee with friends both new and old.

Order at the counter and choose from a menu served anytime from 630am until 230pm. Savor sumptuous salads, wraps, treats as well as sandwiches.

Vegetarians can enjoy Commune's meat-free menus on Mondays where tons of tofu and haloumi abound while also enjoying endless lattes and cappuccinos.

Customer Adam Thomson left a review of Commune at beanhunter.com and describes the place's atmosphere as brilliant.

"Places like this are a rarity on the Gold Coast! There's no pretention, just a wonderful space for people to come together and relax while enjoying a nice meal and a decent coffee.

..my double shot latte was certainly good. There was plenty of flavour, and the milk had been textured nicely and was just the right temperature. We also enjoyed a couple of dishes from the brunch menu. As I'd already had breakfast, I tried a light dish of poached egg and avocado on gluten-free toast with jam on the side - a tasty bargain at $9.

This is a great addition to the Gold Coast café scene. I really enjoyed just hanging out there, and the coffee and food are both very good. Look forward to visiting again."

Another customer, Hanah Madison, left a review of Commune Espresso on urbanspoon.com and describes it as a "Cute cafe - love the decor and ambience. Food was really yummy and coffee good. Had the mushrooms, which was very good. Service okay, but took quite a while for our food to come."

Angela, also a customer who placed a review on urbanspoon.com, cites Commune's coffee as "…amazing, great vibe, staff were fantastic. Highly recommend & look forward to heading back."

Commune Espresso is located at 1844 Gold Coast Hwy, Burleigh Heads QLD 4220 and is across the road from our Burleigh Beach Accommodation.

For more information, call +61 7 5520 3377 or go to https://www.facebook.com/pages/Commune.

Have you been to Commune Café? Place your comments below.

Book your stay now at our Burleigh Beach Accommodation by visiting http://horizons.etourism.net.au/ so you can easily walk to Commune.