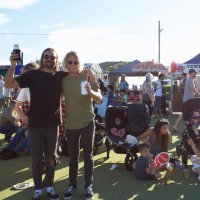 Are you planning a visit to Burleigh Beach on the Gold Coast in the coming months? Spring is a magical time on the coast, and Burleigh is the best place to enjoy the very best that this coastal getaway can offer. Check out the local events near our Burleigh Head holiday apartments this Spring and start planning the ultimate itinerary!
The Green Lion at Burleigh Pavilion
Burleigh Pavilion is a favourite amongst locals and visitors alike, with its epic location on the water's edge and some of the best Burleigh Beach views around. You can quite literally finish up your mojito and step out onto the sand to dip your toes in the sparkling turquoise waters of the Pacific Ocean.

On the 19th of September from 6-9pm however, this hot spot is coming at your from a different angle thanks to partnering with The Green Lion from Sydney and offering up their Vegan Shared Feast that will leave you shaking your head in wonder. Greasy, smokey, cheesy, and delicious classic pub food… but entirely plant based? You'll have to taste it to believe it.

If you're looking to expand your culinary horizons, you won't want to miss this one of a kind event at Burleigh Pavilion.
Fire and Whistle Theory at Burleigh Brewing Co.
If a huge variety of craft beer, vibrant live entertainment, and awesome friendly locals (in our unbiased opinion) are up your alley, head to the Burleigh Brewing Co. this September and catch Fire and Whistle Theory performing live. On Saturday the 14th of September from 3:30pm onwards these Brisbane Blues Rockers will get you all fired up - pun very much intended - with their mix of indie-blues with a dash of alternative country.

As if that wasn't enough to get you excited, on Thursday the 26th of September these guys are teaming up with the Gold Coast Film Festival to offer up the cult classic film 'Cruel Intentions' at their indoor/outdoor cinema. The feature film screens at 7pm and entry is free, so you can focus on sampling mouthwatering craft beers as well an non-alcoholic options, popcorn, nibblies, and meals. Note - this is an 18+ event. You can check out the full outdoor cinema schedule for the coming months here.
Burleigh Street Feast
On the 27th of September foodies can head to Burleigh Town Tavern to take part in the Burleigh StrEAT Feast, the Gold Coast's newest night market. But this isn't your typical street market, it's centred around classic cars and you can meet the owners as they show off their pride and joy, browse the markets, grab a bite to eat and sit back and enjoy the live music and entertainment. This is a family friendly event, and kicks off from 5pm to 9pm. Classic car enthusiasts and foodies alike won't want to miss this fanastic local event.

Catch all of these exciting events and so much more when you stay at Horizons Holiday Apartments. Check out our amazing location just 50m from the beach and browse the one and two bedroom self-contained holiday apartments here.