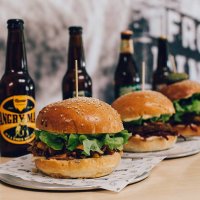 Main Street Burger Bar Broadbeach
Main Street Burger Bar combines excellent burgers and custom-made brews. Goldie's babes, brutes and broods come together at Main Street Burger Bar. Sink your teeth into the juicy burgers and enjoy a hearty lunch or dinner.

The restaurant has a singular vision to create perfect burgers, refreshing beer, creamy shakes and fizzy sodas. Try their rich and delicious shakes. Using organic grass fed beef, free range and local products, and freshly caught seafood, the restaurant maintain its high-quality food. Delicious food and great brews are a simple recipe for success. Enjoy their tasty burgers made with high-quality meat. The hearty burgers are an excellent reason to keep coming back. It's no wonder the restaurant is a local favourite.

Main Street Burger Bar Broadbeach is located at Victoria Avenue Shop G0. 53 Oasis Shopping Centre, Broadbeach.
The Avenue
The Avenue has a great list of unique cocktails, cold beers on tap, and an extensive menu that will please the pickiest eaters. Drink refreshing drinks and ice cold beer.

Live entertainment is also available throughout the week. Bring your family and friends and have a party. The Avenue is a great hangout morning, noon and night. With live entertainment and delicious food, what more can you ask for?

The Avenue's stellar beer is a must-have. The Avenue is a destination party place. Celebrate special occasions at The Avenue.

Doors open 11 am. Enjoy lunch and dinner at The Avenue. Visit The Avenue at 3-15 Orchid Avenue, Surfers Paradise.

Our Gold Coast Family Resort is near restaurants and bars. The one bedroom apartments can accommodate a party of four. The one bedroom apartment features a kitchen, a large private balcony, TV, free Foxtel, and more.

To learn more, go to https://www.horizonsapts.com.au/accommodation.