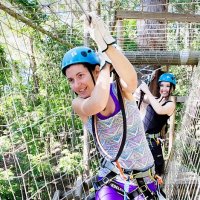 Exploring the Gold Coast with the family won't be a problem. That is if you book at an accommodation with easy reach to your preferred attraction. At Horizons Gold Coast Family Resort, that won't be a problem!

Located in Burleigh Heads, Horizons Holiday Apartments is close to several visitor attractions which include shopping centres, restaurants, weekend markets as well as theme parks. In fact, here are three family attractions you can visit when you are on the Gold Coast.
1. Currumbin Wildlife Sanctuary
This is a heritage-listed zoological garden and they care for several animals from koalas to lorikeets, crocodiles and more. Besides this, Currumbin Wildlife Sanctuary also showcases different presentations daily. They have an Aboriginal Dance Show, an Australiana Show, the Big Fang Theory, Blinky Bill's Studio Adventure, a Crocodile Behaviours Show, Lorikeet Feeding and WildSkies - Free Flight Bird Show.

You can also squeeze in some animal encounters & experiences in between. The sanctuary offers a cute Koala Experience and photo opportunity, a Dingo Walk, a Behind the Scenes Tour, a Segway Safari, TreeTop Challenge and so much more.
2. Sea World
Would you like to visit the region's premier marine animal park? Sea World features several rides and shows as well as animal exhibits and encounters.

If you want to try the rides, the theme park has two precincts. Nickelodeon Land and Castaway Bay. Each features different attractions as well as rides for the whole family. If you want a closer look at the animals, there are several shows you can catch like the Penguin Feeding Presentation at Penguin Point and exhibits you can visit like Dolphin Exhibit at their home in Sandy Shores Lagoon.

When it comes to animal experiences, Sea World has a lot to offer which is divided into two types: Land-Based and Water-Based. Land-Based Animal Adventures include Behind The Scenes Polar Bear Shores, Penguin Antarctic Adventure, and Seal Encounter. Water-Based Animal Adventures, on the other hand, include Shark Bay Glass Bottom Boat, Dolphin Aqua Adventure Child, Dolphin Deep Water Adventure, Dolphin Family Adventure, Seal Aqua Adventure, Shark Bay Discovery, and Tropical Reef Snorkel.
3. Warner Bros. Movie World
How about a movie studio theme park complete with family rides, thrill rides, shows and exclusive experiences?

Warner Bros. Movie World has several rides that offer a mild thrill which is perfect for the whole family. There's a Road Runner Rollercoaster, a Looney Tunes Carousel, Sylvester & Tweety Cages and more. But if you are a real thrill-seeker, you will love their DC-inspired rides offer a maximum level thrill. Start with the Superman Escape, Batwing Spaceshot, Green Lantern Coaster, Arkham Asylum Coaster, DC Rivals Hypercoaster, and Doomsday Destroyer.

For the exclusive experiences, there are four choices: Hollywood Stunt Driver 2, Star Tour - All Access, Prince & Princess Experience and DC Rivals Hypercoaster Climb.

Are you ready to walk through these family attractions? Then book your Burleigh Beach Accommodation at Horizons Holiday Apartments today! Our Gold Coast Family Resort offers a selection of spacious, comfortable and self-contained one and two-bedroom apartments.