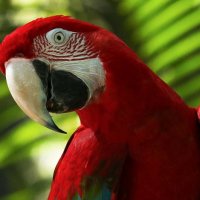 Are you going on a Gold Coast trip with the whole family? Would you like to do something different? How about spending a lovely day amongst native wildlife? The best place to do that is at the award-winning Currumbin Wildlife Sanctuary.

The heritage-listed zoological garden cares for several animals such as lorikeets, koalas, kangaroos & wallabies as well as crocodiles, dingo, tassie devil, wombats and more. You can meet some of them when you avail Currumbin Wildlife Sanctuary's encounters and experiences such as Koala Experience where you get to go behind the scenes and a cotton-top tamarin encounter where you get to meet and feed them, too. You can even cuddle a possum or, take a dingo for a walk!

Besides these amazing experiences, Currumbin Wildlife Sanctuary also has daily shows you can catch on your visit namely:
Lorikeet Feeding
Did you know that Lorikeets are the most colourful bird species in Australia? Do not miss your chance to see these exceptionally colourful parrots on your visit to the Currumbin Wildlife Sanctuary.

There is a Lorikeet Feeding at 8 AM and 4 PM daily. You can watch or feed them if you want to. They are not shy and can eat right from your hand and they can even rest on your shoulder or head.
Blinky Bill's Studio Adventure
This all-new show is a musical and it is also very interactive. In fact, the whole audience can sing and dance along Blinky Bill and the Wildlife Host. Pretty sure the little ones will love it, too! The Blinky Bill's Studio Adventure show is available daily which starts from 9:30 AM. If you miss the first show, simply check in the park for the next showtimes. And if the little ones want a souvenir, they can meet and have a photo with Blinky Bill after the show.
Big Fang Theory
If you are not afraid of snakes, then you will enjoy the Big Fang Theory. Here their expert host will introduce you to Australia's deadliest reptiles. There are various venomous snakes and reptiles. The Big Fang Theory is available every day at 10:45 AM. Make sure to stay after for photo opportunity with the friendliest reptile, of course!
WildSkies - Free Flight Bird Show
This new show happens at Currumbin Wildlife Sanctuary's new stadium which is set on the site's natural environment. Here you get to see different birds such as the Australian Pelican, birds of prey, parrots and wedge-tailed eagles. You can also witness them free-fly across the stadium.

The WildSkies - Free Flight Bird Show is available daily at exactly 11:20 AM and at 2:30 PM. Would you like a photo? Stick around after the show and take one with one of their WildSkies Ambassadors.
Crocodile Behaviours Show
Meet Boss Hog, Currumbin Wildlife Sanctuary's five metre-long saltwater crocodile resident. Learn all about him and other freshwater crocodiles. The Crocodile Behaviours Show is scheduled every day at 1 PM. And if you are interested, there is a Crocodile feeding opportunity available.

Are you ready to catch these shows? Then time to fix your schedule and book your Burleigh Beach accommodation. For easy access, book at Horizon Holiday Apartments Burleigh Heads!