Posted in
Local Events
@
Jan 11th 2019 11:54am
- By Administrator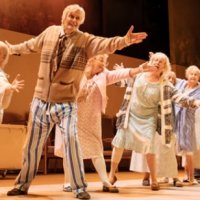 Alan Bennett's bitingly funny new play is 'just what the doctor ordered' according to the Daily Telegraph. Filmed live at London's Bridge Theatre, see it onscreen and catch NTL: Allelujah. This critically-acclaimed production brimming with wit and music is medicine for the soul.

The Beth, a traditional hospital in Yorkshire, is in danger of closing due to an efficiency drive. A documentary crew captures the routine problem of hunting for beds on the Dusty Springfield Geriatric Ward. Peaks such as the victory of the old people's choir are also obtained.

One of Britain's most iconic writers, Alan Bennett's body of work includes The History Boys and The Madness of George III. His plays have been turned into films. Allelujah! is his tenth collaboration with the great Nicholas Hytner.

Catch Allelujah! At Home of the Arts on March 30.

Our Burleigh Beach Accommodation is just a few minutes away from Home of the Arts.

Four guests can occupy the one bedroom apartments. Treat your family and friends for an excellent holiday. The one bedroom apartment has a fully functioning kitchen with a microwave. You can do your wash in the in-room laundry. Enjoy the striking views from the large private balcony.

We also have such as a heated swimming pool where you can enjoy a soothing swim. Sink in the spa and forget your worries. The kids can play in the wading pool. Relax and recharge in the sauna. There is also a games room, a barbecue area, children's playground and more.

The beach is close to our resort. Have a blast swimming and surfing all afternoon. Sink in the sand and feel relaxed. The shopping centres are also nearby. Treat yourself to some shopping and buy gifts for yourself and your family.

Or booking information, please visit https://www.horizonsapts.com.au/accommodation.