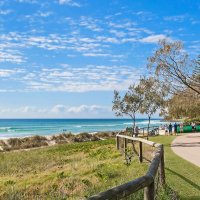 Does it get much better than a stay at Horizons on the Gold Coast when there's so much to do, see, and experience at the moment? We just LOVE the summer months, and this is the perfect time to get out there and explore this sundrenched region of Queensland and discover why it is that tourists return to the GC year after year for their summer holidays.

So without further adieu let's jump right into why you should be making the most of our Burleigh Heads holiday apartments location and stepping out onto the sand for adventure, recharging, and getting that adrenaline pumping.
Burleigh Beach
Renowned as one of the best beaches on the Gold Coast, and certainly one of the most popular surfing spots with the swell at the headland offering up waves that surfers dream about, and the lifeguard patrolled flagged areas offering the rest of us a safe and picture perfect spot to drop a towel or two and prop up a beach umbrella.

It's time to pull out the supplies guys, because the sandcastle building competition is on, and the challenge is to create the biggest, best, most creative sand structures your little hands can manage. Will you build a big luxurious castle fit for a princess complete with a mote, and seashell decorations?

Maybe it's a living artwork with a sibling propped in the sand magically having grown a sand mermaid tail. Or is there a life sized sandy turtle crawling along the beach? Don't forget, that at the end the most fun part is jumping on your creation and watching it crumble under your feet!

Next stop is some serious fun, because all that building was hard work and it's time to cool down! Grab your boogie board kids, it's time to catch some waves. Parents can help pick the best ones, line you up, and then push you off to ride the waves at speed towards the sandy shore! Careful though, it's easy to find that hours have passed in the blink of an eye when you are having this much fun, so make sure you don't forget to reapply that sunscreen and hydrate.
Learn to surf
Are you tempted to tick learning to surf off your bucket list? There's no better place to do it than the Gold Coast, and you can opt for one on one lessons, or join a group of adventure loving like minded people and learn the basics on the sand before trying your skill in the water. You'll be paddling, popping, and standing up to ride the waves in no time! Staying on them might be a little trickier, but practice makes perfect and you are on holidays, so plenty of time to perfect your newfound skills.
Ocean views
If you can't get enough of ocean views, there's honestly nothing quite like the stroll through the Burleigh Heads National Park and around the headland to Tallebudgera Creek and Echo Beach. The nature surrounding you screams tropical paradise, the views are second to none (especially at sunrise or sunset) and you can catch glimpses of the gorgeous Gold Coast city stretching right up past Surfers Paradise.

If you are really lucky, you might just spot a humpback whale off the coast, or a pod of dolphins playing blissfully in the waves. Did you think you were the only one that treats the ocean as their own personal playground? Think again.
Your idyllic holiday apartments
What's the best way to make the most of the Gold Coast and Burleigh Heads beaches? With a holiday stay just moments from all the action. Book your stay at Horizons Holiday Apartments and make the most of the rest of summer fun, with our one and two bedroom self-contained apartments, swimming pool, sauna, kids playground, ocean or hinterland views, and location just 50m from the iconic Burleigh Heads Beach.

Find out more about our spacious ideally situated Gold Coast holiday apartments steps from Burleigh Beach here.