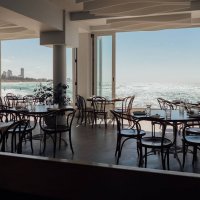 Have you ever wondered what it is about Burleigh Heads that draws visitors not only to stay for a picture perfect holiday, but also brings in travellers staying all over the Gold Coast in for a peek? We'll tell you, but you'll need to pull your eyes away from the gently rolling waves and crystal clear turquoise water, the skilled surfers on display from your picture perfect vantage point on the iconic Burleigh Hill, and the dolphins and whales playing before you for just a minute or two.
Burleigh Heads National Park
If you make your way to the top of the hill you'll find access to the walking path that takes you on a breathtaking adventure through Burleigh Heads National Park. The Oceanview Walk itself is just over a kilometre and is suitable for all ages and fitness levels. You can make your way around the rocky headland all the way to the crystal clear waters of Echo Beach and Tallebudgera Creek. The walk is scattered with lookout points along the way that are the perfect place to stop and absorb the incredible view.

The Rainforest Circuit is a little over two kilometres, and includes a steeper incline up to the Tumgun lookout, which just FYI is the perfect spot to glimpse a whale during the Spring and Winter months. Whichever walking track option you choose, you'll love the towering rainforest scenery that gives way to idyllic secret swimming spots. If you're lucky you might spot some local wildlife as well!
James Street
If a unique shopping experience is what you are craving, a visit to James Street and the surrounding areas is bound to satisfy your cravings. With the most eclectic and beautiful collection of boutique shops for your browsing pleasure, you'll find everything from trendy fashion to arts & crafts, clever gifts, and swim wear. Everything you could want or need is at your fingertips.

As if that's not quite enough, the weekend markets are a delight to explore. From creative designs to eco friendly items, coastal fashion, and souvenirs you'll love strolling through the market stalls as you enjoy the sounds of the ocean on the breeze.
Restaurants and cafes
It doesn't get much better than dining in Burleigh Heads. Whether it's hitting the Surf Club for incredible meals with spectacular ocean views, or heading to Burleigh Pavilion fora breathtaking casual dining space just steps from the sand. Gourmet pan-asian flavours can be enjoyed at Rick Shores, and fresh seafood is a foodies delight at The Fishhouse.

There are also a whole range of cafes in Burleigh Heads for you to find, from beautiful breakfasts, takeaway fish and chips to enjoy on the hill at sunset, or organic and healthy options. You'll find dining a treat on your Burleigh Heads stay with so much choice, and such an incredible location in which to enjoy your meal.

Whatever it is about Burleigh that is drawing you to a Burleigh Heads stay, you'll love our central location and one and two bedroom self-contained holiday apartments.