Posted in
Accommodation
@
Oct 24th 2013 1:34pm
- By iLaunch Support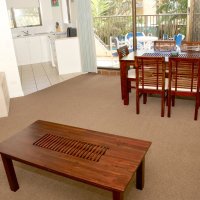 When you're in the Gold Coast and checked-in to our Burleigh Beach Accommodation, expect to have a slew of things to do and sights to see both within and outside our Horizons Holiday.

Experience a range of services and facilities without stepping out of our resort. Our peaceful garden setting is the perfect place for you to relax and put your feet up.

You need not take our word for it. See what our guests have to say after staying with us.

"Spacious apartment"

Our guest and Trip Advisor Contributor "Cathy D," stayed in our two-bedroom unit and found it "..very spacious, our view was towards the beach and overlooking the pool. This apartment was probably one of the oldest we have stayed at. Would recommend to families as plenty of room, private walkway through to beach. Large playground, mini golf for children. Surf clubs/pubs within walking distance. Staff very friendly and helpful."

Take note that our Reception is open from 9:00am to 5:00pm Monday to Friday. During Saturday and Sunday, it is open from 9:00am to 12pm and 9:00am to 10:00am respectively.

"Fantastic family accommodation"

Another guest "Glenn550" stayed in our Burleigh Beach Accommodation for the first time this August 2013 and decided it is the only place they want to be in whenever they are in the Gold Coast.

"This was our first time at Horizons, but from now on it is the only place we will stay when going to the Gold Coast. Staff are the best. All were very helpful and friendly. My two teenagers had all the distractions: pool, games and the beach right there at the door step.
We will be going back and would recommend to everyone."

We know you want to have fun so we made sure beach towels and boogie boards are available for hire from our Burleigh Beach Accommodation. Other activities to be had for those who want to stay fit even while on holiday are free yoga and Tai Chi classes on Burleigh Beach every week.

"..Excellent place.."

Meanwhile, "Glenny49" checked-in to our two Horizons Holiday apartments with her daughters and found are facilities "..excellent and very child-friendly.."

"We had teenagers, who are problems at the best of times, but they never once said "I'm bored"…I had recently had a second knee replacement and asked if it would be possible to use the disability car park. This was no problem either. This is an excellent place for families and would recommend,."

"Glenny49" also recommend future guests to choose rooms that are facing the sea as these are quieter.

What are you waiting for? Book now at our Burleigh Beach Accommodation by going to http://horizons.etourism.net.au.