Posted in
Accommodation
@
Jan 24th 2014 10:34am
- By Administrator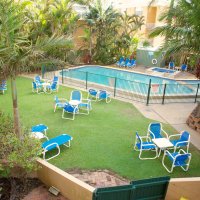 When you check-in to our Burleigh Beach Accommodation, expect a slew of activities, sights and attractions to make your stay positively unforgettable. We are more than ready to provide you with anything and everything you need for a relaxing stay.

Swim in our pool, rejuvenate in our spa

We have a heated swimming pool onsite to make your swim refreshing. Feel free to take a dip early in the morning before you start your day or during the night after exploring all the Gold Coast has to offer.

If you have kids in tow, we also have a wading pool that your kids can splash and enjoy themselves in. Toddlers and small kids can use our wading pool.

Relax in our sauna

If you feel tired after a full day of strolling through the Gold Coast, immerse yourself in the warm and rejuvenating environment of our onsite sauna.

Play a game

Kids and kids at heart are sure to experience hours of gaming fun in our Games Room. Entertain yourself and your family.

Play mini golf

We also have a mini golf onsite where you, your friends or family can enjoy mini-golf. Play a few rounds with your loved ones.

Put some prawns on the barbie

We have onsite and free barbecue facilities so you can put some prawns on the barbie. Having a barbecue is the best way to bond with your loved ones as well as enjoy a sumptuous meal.

Play

Our children's playground allows your kids to play in safety and security as you relax in our sauna or laze by the pool.

Eat your heart out

Dining options abound when you're in Burleigh Heads. Taste anything and everything from seafood to authentic Australian cuisine. Restaurants and cafes are situated in every corner. All you have to do is choose your preference and enjoy.

What are you waiting for? Book with us now by going to http://horizons.etourism.net.au/.