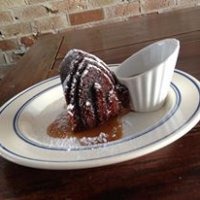 If you want to experience being sheltered by a weeping willow while dining to your heart's content, step into the Willow Dining Room.

Expect to be welcomed warmly as each table carries a twinkling tealight candle.

There are little rules and restrictions in the Willow Dining Room. Feel free to bring your own beverage. After which, order a cheese plate and enjoy the music.

One dish is simply not enough so share plates for entrees are a must.

Order the crisp tempura zucchini flowers and dive your fork through its molten heart made of basil and Persian fetta served with succulent cherry tomatoes.

Taste Willow Dining Room's Italian meatballs, baked white anchovy, mushrooms filled with goat's cheese, lamb kofta with beetroot, Greek yoghurt and slow-roasted pork belly with star anise maple.

Savor fat-smoked salmon croquettes sprinkled with dill, a squeeze of lemon or drizzled with saffron mayo.

According to Willow's chef Hans Rodjilic, the launch menu is a mere teaser of what he is to offer Willow diners.

All menu options, including the desserts, are gluten-free.

Trip Advisor Reviewer "Johnb12348" describes Willow Dining Room as "Great."

"Melbourne style restaurant.....love it. Great for the Gold Coast. Great staff and food. Pork belly is a must."

Trip Advisor Reviewer "W0022" delights at "What a lovely find" Willow is.

"This restaurant reminded of places I used to go to in Melbourne. Welcoming, BYO and no fuss great food. The staff were fabulous and we were not at all hurried when we finished. I hate the feeling of being pushed out of a restaurant. One of my new favourite restaurants on the coast. Thank you Willow."

Trip Advisor Top Contributor "melsroseplace" had a fantastic night at Willow.

"Went for my birthday dinner with a family of 6. We had a fantastic night here. The service was really friendly and helpful. The meals were all beautiful and had a delicious home cooked quality to them. We all had dessert too and that was great….Definitely check this place out ... a great little spot for Burleigh."

Trip Advisor Senior Contributor "lannycal" has been to Willow three times and has no plans to stop.

"3rd visit and best by far! Great food (order tapas plates and share as that is their speciality), cute/cozy atmosphere with attentive friendly service. Perfect all round and so excited starting weekend lunch and its our local. Well done."

Willow Dining Room is open from Wednesday to Sunday. Go to https://www.facebook.com/WillowDiningRoom or call +61 7 5576 4110 for more information.

The restaurant is located at 2/1840 Gold Coast Hwy, Burleigh Heads. It is a quick drive from our Gold Coast Family Resort.

Book your stay now at our Gold Coast Family Resort by visiting http://horizons.etourism.net.au so you can be near Willow Dining Room.