Posted in
Local Events
@
Dec 18th 2019 3:24pm
- By Administrator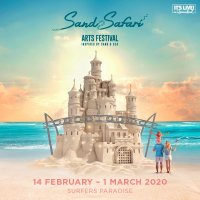 Turns out that if you're staying on the Gold Coast this February, you've chosen the perfect time of year to join in with the festival fun, with an outstanding lineup of fantastic festivals hitting the Gold Coast! Get ready for jaw dropping art, fairy tale fun, environmental epiphanies, and hours of dancing and swaying to the best beats. There's never been a February quite like this, so grab your Burleigh Heads beachfront accommodation now, and make the most of these spectacular Gold Coast events!
Sand Safari Arts Festival
Each year thousands of visitors flock to the streets of Surfers Paradise to join in the Sand safari Arts Festival, which sees 15 internationally acclaimed artists battle it out to take home the title for the best larger than life sand sculpture created from 270 tonnes of sand along the foreshore. When the only limit is your imagination, and the creative theme is fairy tale classics, you'll be completely blown away by the detail, skill, and creativity on display as you view not only completes works and art installations, but watch the sculptors creating masterpieces before your very eyes.

It doesn't stop there either. Your family can completely immerse themselves in fairy tale wonder. Search for Jack climbing the Beanstalk, oversized tentacles as sea creatures climb Cavill Mall, the Magic Mirror that belongs to the wicked stepmother in Snow White, and an enchanted fairy tale wonderland including a pop-up library on the beach and storytelling sessions bound to delight.

You'll just love seeing the incredible works of art on display in the gallery inside Cavill Mall, with creations from a whole range of talented artists from amateurs right through to established international artists. Running over the span of 17 days from the 14th February right through to the 1st of March, this is non-stop family fun and well worth a visit on your Gold Coast stay.
Environmental Impact Docfest
In February at Home of the Arts (HOTA) you can catch incredible environmental films that will get your thinking, and astound you with spectacular visuals as part of the Environmental Impact Docfest. 'Anthropocene: The Human Epoch' is a documentary film that follows the research of a group of scientists as they document changes to the planet geography as a result of humans, and the impact of our species around the globe.

'Queen Without Land' is the story of the four year journey of a beautiful female polar bear as she becomes a mother and raises her cubs amongst the melting ice. 'Into the Jungle' tells the tale of newlywed zookeepers that move from Australia to Papua New Guinea in the hopes of conserving an endangered species of tree kangaroo. 'The Pollinators' tracks the movements of a very valuable cargo of honey bees across America, and the irreplaceable impact of these creatures on the supply of fruit, nuts, and vegetables. Lastly 'We Rise Up' asks the question "what is success?" in a world that is changing so quickly and old definitions no longer signify.
One Love Festival
Shaggy and Sean Paul headline this massive lineup of incredible performers as part of the One Love Festival coming to the Broadwater Parklands on the Gold Coast this February. Originally a New Zealand music Festival, One Love has expanded its reach to Australia this year, and we couldn't be more excited!

Featuring an outstanding program of reggae and dancehall music, this festival will take place on Saturday the 1st of February from 11:15am in the picture perfect venue that is the green lawns of the Broadwater Parklands in Southport. This event isset to sell out in record time, so don't wait! Grab your tickets and book your Gold Coast accommodation today!
Make the most of February
With so much to see and do on the Gold Coast this February, you will want to make sure that you book your GoldCoast holiday accommodation well ahead of time, and what better place than the on the iconic Burleigh Heads beach?

Whether you are looking for budget GoldCoast holiday accommodation options, or thinking about splurging a little and choosing from one of our luxurious deluxe apartments, the winner just has to be out ideally situated location just 50m from the beach, and with easy access to all the best events and attractions that the Gold Coast has to offer.

Located just a stone's throw from incredible trendy local dining spaces, boutique shopping in the famous James Street, the top Gold Coast surf spot just below Burleigh Hill, and the spectacular Burleigh National Park and headland walk, you'll be spoiled for choice when it comes to filling your time with activities and attractions within walking distance.

You'll love our onsite facilities including a sparkling heated pool, spa, sauna, games room, barbecue area, and private beach access walkway. Whether your style is a tranquil family holiday, couples romantic getaway, or action packed adventure this February, we just know that you will enjoy every second of your Burleigh Heads stay at Horizons Apartments.