Posted in
Local Events
@
Apr 11th 2019 3:42pm
- By Administrator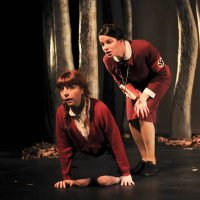 Enjoy these thought-provoking and entertaining plays presented at Home of the Arts.
Hitler's Daughter
The play is based on Jackie French's book. Somewhere in the Australian countryside, four kids tell stories to while away the time while waiting for their school bus. They play a story-telling game as a storm rumbles nearby. Anna spins a riveting tale that happens during the bombing of Berlin. The child in the story, Heidi, takes shelter under a bunker. Heidi has a large birthmark on her face. She is Hitler's disfigured daughter kept isolated by her father.

The play cuts back to the bus shelter where Mark becomes caught up in Anna's story. The kids imagine what it must be like for Heidi as the child of her infamously evil father. Mark looks for black and white truth amidst the greys of history. The story climaxes in the bombings of Berlin which mark the doom of the Third Reich and also the end of Heidi's naiveté. Hitler's Daughter asks tough questions about society's prejudices. Catch Hitler's Daughter from September 12 - 13.
Much Ado About Nothing
Two pairs bicker, banter and fall in love. Claudio and Hero are the picture of sweet young love. Meanwhile, Beatrice and Benedick are at each other's throats. Claudio and Hero's union is threatened when Claudio becomes filled with envy. Beatrice and Benedick set aside their differences to save true love even if they don't believe in it.

Much Ado About Nothing examines the fine line between love and loathing. It is a sharp and comical look at love and identity in the context of patriarchal society. The play stars Zindzi Okenyo. It is directed by James Evans. Catch Much Ado About Nothing from September 4 - 5 at Home of the Arts.

Our Burleigh Beach Accommodation is nearby. We have one bedroom apartments that are suitable for families. The flats have full amenities to make your holiday stress-free.

For more information, visit https://www.horizonsapts.com.au/accommodation.